Minimal, modern and gorgeous
Captiva is a clean, modern and minimal multi-purpose WordPress theme. It has a wide range of incredible features and is everything you need to take your business to the next level!
Beautifully Responsive
Built using the sleek, clean Bootstrap 3 framework, Captiva is responsive right from the very start so it'll look fantastic whether on desktop, tablet or mobile.
No Heavy Lifting
With Visual Composer and its Add Ons pack included there are over 60 plus shortcodes out of the box to make adding content incredibly easy.
Retina Ready
Captiva uses crystal clear icons & images, including all 327 font awesome icons so there will be no need for any extra plugins.
Clean, modern default styles
When you just want to add your content quickly and not worry about styling, our default styling will ensure you look fantastic.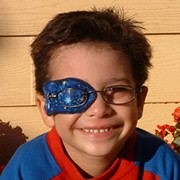 I've been using your patch for years and my son is now 13 and has to do another 6 month stint as the vision in his left eye has slipped a little. Because of you though, we went from 10% vision to 75% now, so thanks for a great product. I tell as many people as I can in the 'eye' world. Your product is easy to use and children adapt to using these patches really well. We found the old sticky patch method horrible so it was a relief to find Patch Mate eye patches.
Carleen (Tasmania)
"Congratulations!!!! You have invented the most fantastic product. My little girl, Grace, is now three and bit, she has been wearing glasses since she was 14 months old. She has been patching 3 days a weeks since 2 years old and finally had an operation in August of this year [2004]. I know exactly what you have been going through with the patching, the tears, the irritation that Grace would get in summer was dreadful and having to take the patch off every night was also a nightmare. " (later in the testimonial letter)..."I have also taken the liberty to show this to my local optometrist from where I purchase my daughters glasses; they too agreed it was a fantastic product. "
Di Pearce
I have been meaning to write for a while and just haven't had a chance to get around to it. I just wanted to say thank you for the patchmate. It is so convenient and easy to use. My eldest twin suffered through the 3M medical tape on his eye for a period of 6 months. With the youngest twin, who's eye condition was diagnosed later, my Opthamologist gave us your pamphlet. Patching has been a non-traumatic experience this time around with the Patchmate and it is a product I would most certainly recommend to others.
Karen
What payment methods do you accept?
We accept the following methods of payment – Mastercard, Visa, Visa Debit and PayPal.
When will I be charged?
Payment is charged immediately after security checks from your bank issuer and Captiva have been authorized.
How do I know my order has been placed successfully?
We will send you an acknowledgement email on successful completion of an order on the site. This email will detail the order that you have placed and will give you an order reference number. We would advise you to keep this email safely as you will need your order reference number for any further queries which you may have. Failure to provide us with an order reference number on request will result in a delay with your enquiry. Once your order has been accepted and dispatched to you we will send you a confirmation email.
I did not receive a confirmation email
Please contact us if you do not receive an acknowledgement email and we will make sure it is not a problem with our system. Acknowledgement emails are generated and sent automatically once an order has been successfully completed. You may need to check your mailbox as it may be treating our emails as spam or junk mail and you should check your spam or junk mail folders to make sure they have not gone directly to this location. You may also need to ensure that all of the details entered are correct, please pay particular attention to your payment card details, email address and delivery addresses.
The item/size I ordered is out of stock. Why was it on the website?
All items are subject to availability. Generally, if an item is showing on our website then it is available to order. However, during busy periods we may be in a position where we cannot supply an item or there may be an unexpected delay in despatch. Our system does not record individual size quantities, if you order several items in the same size you may experience a slight delay. If this is the case, we will let you know as soon as possible and will offer to substitute the item for another item of similar style/colour/ size or we will offer a refund.
How long will my order take to be processed?
We endeavour to process orders as quickly as possible as we know how exciting it is to get your order promptly, however please allow 24 – 72 working hours as a guide.
A perfect solution for my company!

"They truly understood the look I was going for and completely nailed it!"  - greg_ross28

The best shop theme I've used!

"Don't wait any longer to call up the team, you're only hurting yourself by postponing!" - mobrien78

Just what I needed!

"It was really fun getting to know the team during the project. They were all helpful in answering my questions and made me feel completely at ease."  - krazyjoe1
Drag and drop elements onto the page
Captiva includes the incredible Visual Composer plugin, which offers unlimited possibilities when it comes to content creation and organization – you'll be up and running in no time!