Blake is our 5 year old son who has been diagnosed with a lazy eye (amblyopia).
Our first ever hint that Blake was having sight problems was when he was tested at his early childhood center prior to starting school. We were shocked and in disbelief that he couldn't see properly out of his left eye as we had no idea of this problem, and he had never said anything to us about his sight in that eye.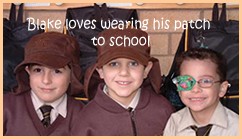 It simply slips onto the glasses, therefore not directly having contact with his eye or skin whilst blocking his vision in the stronger eye. Air is able to flow around the eye area, so his skin is able to breathe. Blake loves his patches. He enjoys the choices of patches to wear, giving him autonomy with the patching process. Patch Mate has taken the stress out of patching for both us and Blake.
Upon seeing an optometrist and then a paediatric ophthalmologist, he was diagnosed with a lazy eye. This was a stressful time for us all, the prospect of him having to wear glasses…..But little did we know the bigger stress was yet to come….Patching. We were given a stick on patch that he would fear as soon as it would be time to patch. It would be uncomfortable, rip off eyebrows and skin upon removal and leave his skin irritated. We would use a few patches a day, as any tears would make it soggy and uncomfortable, and he would try and rip the patch off. Being summer at the time we started patching, he would sweat underneath the patch, causing him to be itchy and irritable. Patching was beginning to be costly, as in no time we had been through 2 boxes of stick on patches. We then resorted to making a pirate patch which he would have sitting on top of his head every time he thought we weren't looking.
That's why Patch Mate is ideal.